The Second Virtual Conference of the Energy Transition Hub – A Sustainable Dialogue between Germany and Australia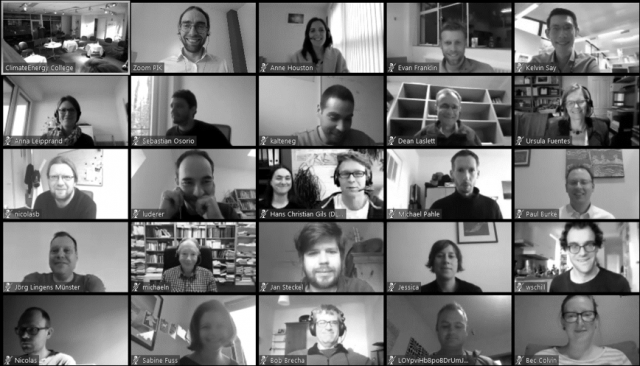 The Australian-German Energy Transition Hub held its second annual virtual conference from 18 to 28 March 2019. Over ten days, 54 researchers from 13 institutions across Australia and Germany met through a series of nine online meetings that covered all aspects of energy transition, from the technical aspects of energy market modelling, through to the social elements of energy policy design. The virtual meeting saved about 245 tons of CO2 that would have been required for air travel across the continents. After the First Virtual Conference in March 2018 and a in situ meeting at the University of Melbourne, this was the third intensive collaboration phase of the bilateral research project. It was also an opportunity to welcome the Hub's newest Australian research partner: the University of Technology Sydney (UTS).
Supported by the Australian and German governments, the Hub undertakes research within four themes of common and timely interest to Australia and Germany: technical challenges of the energy transition, socio-economic and regulatory questions, the role of negative emissions, and industrial opportunities in the transition. Specific research topics progressed during the March conference included:
Multi-model analysis of power sector pathways to zero emissions, including scenarios of 200% renewables that incorporate sector coupling and energy export via, for example, hydrogen;

Mapping and evaluation of regional and sector transition policies across Australia and Germany;

The sequencing of policies in reducing hurdles to decarbonisation; and

The opportunities for, and governance of, negative emissions options (such as afforestation or bioenergy with carbon capture and storage) in delivering a climate-neutral economy;
A growing area of interest was found to be the integration of hydrogen into energy system modeling as well as the economics and governance of renewables-based export industries. It is a field where Australian-German research collaboration can prove particularly fruitful given Australia's low-carbon export potential and Germany's technological expertise and entrepreneurship in sector coupling options. 
To continue and broaden this timely discussion, a bilateral Energy Transition Hub symposium is planned for 18 and 19 September 2019 in Australia. The symposium will bring together senior representatives from the policy, industry, research and community sectors. It will provide an opportunity for in-depth discussions on bilateral aspects of energy transition and for fostering bilateral exchange between governments and industry.