Energy Transition to Renewable Energies: Opportunities for Australian Cooperation with the Philippines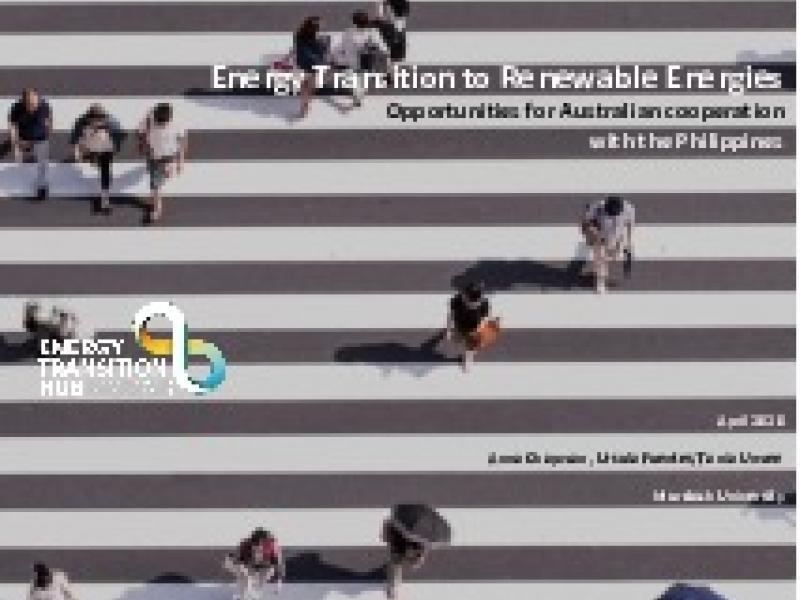 In the Philippines, the amount of coal production is targeted to increase by 170% from 2017 to 2040. This target is not compatible with the Paris Agreement objectives and will lock the Philippines into an emissions intensive future and create expensive stranded assets. President Duterte has called for renewable energy to be fast-tracked to reduce coal dependence. There have been several policies implemented to support the uptake of renewables, although renewable energy expansion has not kept up with overall energy demand, causing the renewable energy share to decline in the energy mix.
Climate and environmental vulnerabilities wreak havoc on the Philippines energy system. Climate change leads to increased demand for air conditioning, and lower hydro energy supply, while earthquakes and typhoons knock out power infrastructure. Environmental hazard vulnerabilities and the goal for electrification across the many islands underscores the necessity to decentralize and diversify to renewable energy, energy storage and increase energy efficiency to improve the capacity for supply to meet demand. In addition, the Covid-19 crisis underscores the need for secure and affordable energy, as the workforce shifts to working from home. The transition to renewables offers an opportunity to meet energy needs, reducing dependence on fossil fuel imports, decarbonise and reduce climate impacts while making progress to meeting Paris Agreement commitments and Sustainable Development Goals.
This briefing summarises the current situation and future projections for the energy system of the Philippines and explore the potential for transitioning to renewable energy as well as related challenges. The briefing draws conclusions on how the future collaboration between the Philippines and Australia can address these challenges and seize opportunities to enhance and accelerate a clean energy transition to achieve Sustainable Development goals and the Paris Agreement objectives.