Fiscal stimulus for low-carbon compatible COVID-19 recovery: criteria for infrastructure investment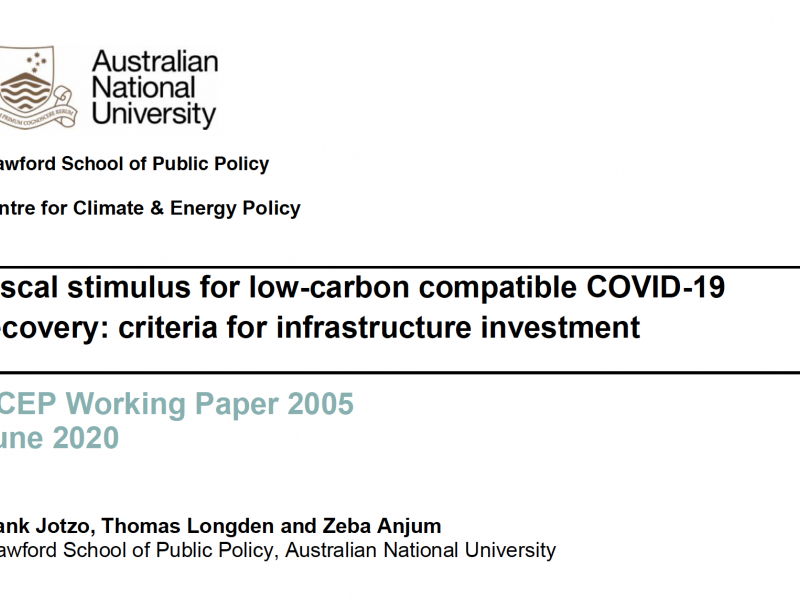 To counteract the recession caused by the measures to contain the coronavirus (COVID-19) pandemic, governments are implementing fiscal stimulus measures for economic recovery. In addition to keeping people in jobs and businesses afloat, public investment can improve productivity and economic growth prospects, resilience and quality of life for the long term. Importantly, it can also help achieve long-term low-carbon trajectories, especially where new stimulus spending goes to infrastructure projects. This paper takes stock of approaches for evaluating and choosing options for public investment in projects and programs that support economic recovery, are consistent with a low-carbon transition, and bring broader economic, environmental and social benefits.
We develop a multi-criteria analysis framework and illustratively apply this to infrastructure projects and programs in Australia that have previously been designated as priorities. Promising categories for public stimulus include renewable energy supply including by fast-tracking renewable energy zones and transmission investment, some types of transport infrastructure projects, energy efficiency programs including retrofits of public housing and buildings, and land management projects including to restore ecosystems that were damaged in Australia's bushfires. Investments like these hold promise to create jobs and local economic activity, while supporting lower-carbon outcomes and achieving other societal goals. Comprehensive evaluation of public investment options along a clear set of criteria can help improve decision making on public infrastructure investments, and transparency about public policy objectives may also inspire greater public confidence in how governments make funding decisions in COVID-19 recovery.
Citation
Fiscal stimulus for low-carbon compatible COVID-19 recovery: criteria for infrastructure investment, 
Frank Jotzo, Thomas Longden and Zeba Anjum
Crawford School of Public Policy, Australian National University